The Virtual Green Roof and Wall Summit will feature a talk by John and Dusty on small scale green roofs. The summit runs throughout the runs from April 6 through May 31, 2015.
. 
 The Virtual Green roof Summit Trailer
The trailer above gives you a taste of what to expect. The Virtual Green Roof Summit video presentation was filmed at John's house in January 2015 and throughout the summer of 2014. Of course several of John's green roofs feature and of course his wonderful garden.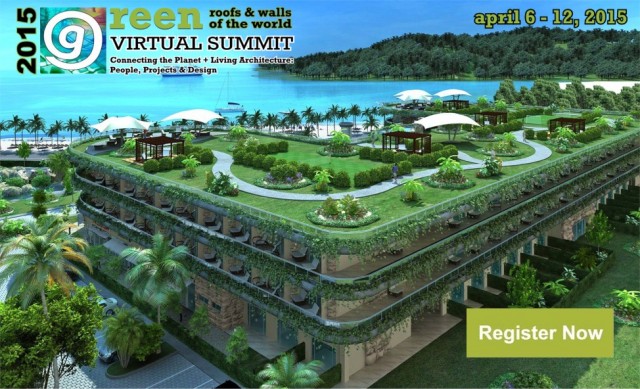 What's in the full video presentation?
The Virtual Summit presentation charts John and Dusty's route to green roofs. From a shared passion for wildflowers and wildlife, to passion for sharing knowledge as thoroughly and as widely as possible.
They talk about soils, edge details, wildflowers, bees, pollinators and why small green infrastructure is something that the public can not only embrace but also achieve themselves. It will also features small buildings from sheds to outhouses and of course to freight container buildings.
With a little guidance.
Friends will be the there too.
The Virtual Green Roof summit also features other speakers who are good friends of green roof training, including Ed Snodgrass (USA), Karla Dakin (USA) and of course Kerry Ross (Canada). The Virtual Green Roof summit is therefore not an event to miss. Great speakers, great content and well worth registering as soon as possible.
Dusty will also be doing another presentation with Nathalie Baumann on Biosolar roofs, where combining green roofs for pollinators with solar panels is the theme.
The event will also include a chance to discuss your issues with the speakers though the date is as yet to be be confirmed when John and Dusty will be available.