A double roofed green roofed barn is now gracing a woodland in Essex. Sitting in Norsey Woods near Billericay, the barn is an example of how a small building can be both sustainable and deliver for biodiversity
The two roofs have provided two different habitats. In addition to a dry grassland roof, the barn also has a wetland roof.
Creation of a Wetland Roof on the Norsey Wood Barn
This will only be a temporary wetland roof. The technique is simple. By raising the outlet height, water is retained on the roof. The amount of water retained depends on the height of the outlet above the deck. This technique, in effect provides added moisture for the the roof, which allows a different range of plant species to be used.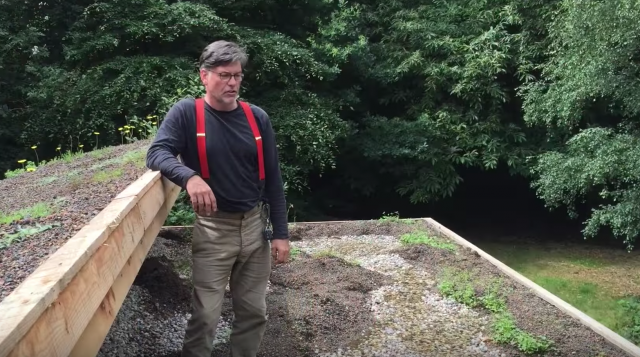 Footpads to protect archeology
What happens under the roof, however, is what is really interesting about this building. As John Little of The Grass Roof Company and Green Roofs Shelters explains the Norsey Wood Barn is on an important site for archeology. The innovative floor cover and foot pads provide protection to the site and also a safe surface for walking on.
Using local materials makes a sustainable building and delivers biodiversity
In addition to the green roofs the building is peppered with other features for biodiversity.
Habitat walls, otherwise know as bee hotels, have been constructed of local sweet chestnut logs. The various hole sizes allow a range of solitary bees to take up residence from leaf-cutters to wool carder bees
Wool is also a feature of the habitat walls – to provide nesting material for birds
Up in a discreet corner a bat boxes will hopefully attract roosting bats
As John is co-author of this guide, the green roof elements were constructed exactly as outlined in the Members' section. So why not sign up and construct your own green roofing using a successful technique.