Green roof of the Day – Green roof training HQ
Green roof training HQ is now over twenty years old. It was constructed using the material from the footing. Just clay earth. This tends to mean it browns off quickly in the summertime. However it still surprises.
---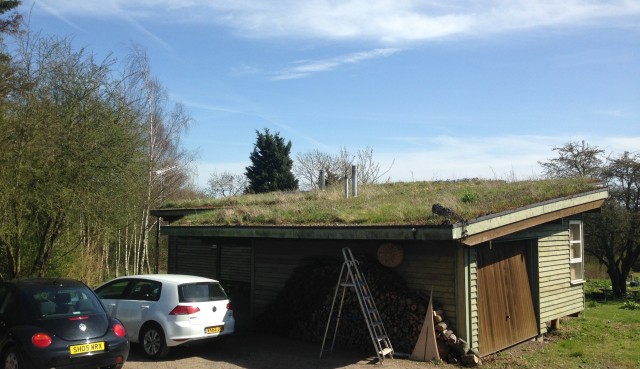 I visited John on Sunday to take part in the Q and A for the Virtual Green Roof Summit. There was a lot happening on the roof. Flowers in bloom included Germander Speedwell and plenty of Dandelions. But best of all were the army of Muscari in full flower.
Muscari in flower on the Green Roof Training HQ
Just have to share these images. Muscari, although not native, is a great plant to plant on a green roof. Such vivd colour and an important nectar source for early pollinators.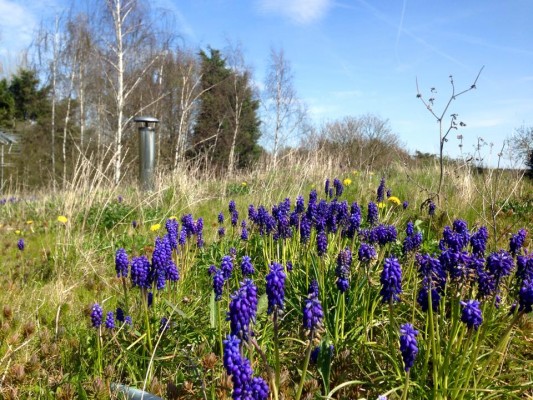 Pollinators on a green roof
Whilst on the roof a noticed a couple of Hoverfly species. There were also a few Honey bees from John's wild hives visiting the flower heads. Just below the roof, a series of bee hotels/habitat walls are being investigated by Red Mason Bees. Taking a break from patrolling for females, a noticed the male Mason bees feeding on the Muscari. A couple of Red-tailed bumblebees looked to searching for nest sites on the roof too.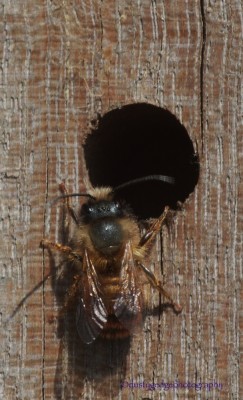 Seasonal Change on a green roof
Come May, the bee orchids that appeared a few years ago will be in flower, then in June the Sedum reflexum will offer up yellow flowers to the pollinators, along with the Ox-eye daisies. July can turn brown, especially if there is a drought and then in August the Musk Mallow will act as pink bars for the bees.
So even though the substrate may not be the type we would recommend these days, 20 years on the Green roof training HQ is still a magnet for biodiversity.
Become a online member and make a green roof yourself.