The Piedmont green roof is the next stop on our small-scale green roof tour. Our good friend, Jim Labbe installed the roof in Portland (PDX), Oregon in 2017.
Portland has a long tradition of green roofs back to the early noughties. However, they do not refer to them as green roofs but as ecoroofs. Jim Labbe has been involved in many environmental activities over the years in PDX. In fact, he worked for a long time for the Portland Audubon Society.
A green roof in Piedmont
With limited load on the main roof, there wasn't the scope to do a full biodiverse green roof. So the vegetation cover is a sedum mat. Jim, however, took John's innovative approach to the roof edge, which is explained in detail in the members section. This is like a 'drystone' wall at the bottom of the roof.  This gives a green roof some character. Finally as Jim points out –  'the main building roof does have limited load capacity so drift wood pieces provide biodiversity benefits in lieu of varied substrate depth.' On the second Piedmont green roof, however, there is capacity for more load. Therefore Jim plans to add some topography in 2018. Small mounds of extra substrate will hopefully help native plants to flourish.
The 'drystone' wall gabion edge is one of John Little's innovations. Jim's photos have now been added to this element of the members section of the guide as they are great examples of how to install this element.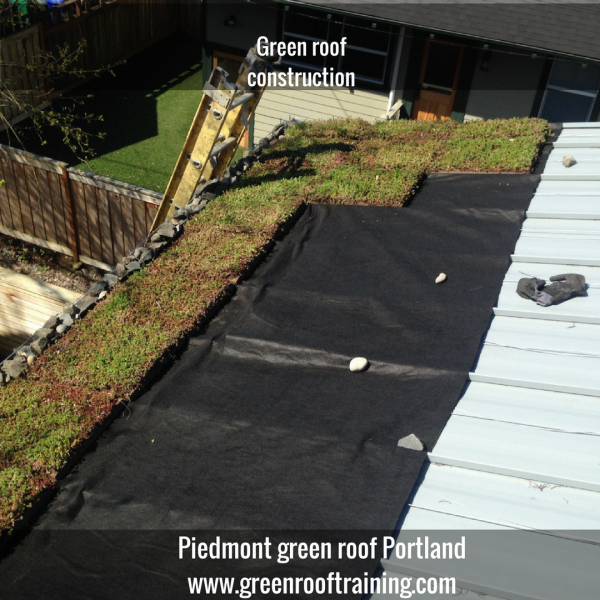 The challenges of the climate in Portland
When comparing London to US cities, Portland, Seattle and Vancouver would appear to have climates that are approximate to that of London. Whilst the North West US states are renowned for their rainfall, their summers are much hotter and dryer than London's. This presents some challenges. With limited substrate depth and shade from the trees in Jim's yard, using native plants was a bit of challenge.
Some native plants were installed along the bottom edge of the green roof. These included:
Western Mountain Balm, Monardella odoratissima 
Oregon Sunshine, Eriophyllum lanatum
Alumroot species, Heuchera 
Davidson's Penstemon, Penstemon davidsonii
Common harebell  Campanula rotundifolia
The last one is circumpolar and is found on many green roofs in the UK and Europe.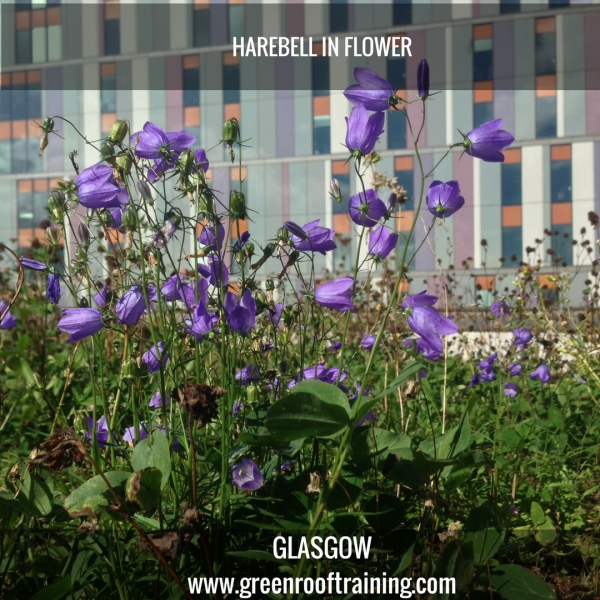 Most of the native plants didn't survive as they were planted in the shadiest part of the roof. However, Davidson's Penstemon did survive on the shaded part of the roof. Last year was its first, so we are looking forward to hearing what happens in 2018 to the Piedmont green roof.
After Essex, Finland, Oregon and Cornwall our next stop will be back across the Atlantic  for an update on a garage green roof in the French speaking part of Switzerland.